| | | |
| --- | --- | --- |
| | Testimonials | |
---

" I've taken four trips with Southern Arrowhead Outfitters to hunt deer. I've found the property holds a large number of whitetails and wild boar. On each trip I saw several shooter bucks up close and on the fourth trip I managed to take a nice 8 point buck. Although I did have close encounters with bucks on the first three hunts, quality bowhunting shot opportunities did not present themselves. This is not a " canned " hunt but you can expect to see plenty of game. I've been bowhunting for over 40 years and I can affirm that Southern Arrowhead Outfitters offers a quality fair chase hunt that is very reasonably priced. The outfitters are very knowledgeable hunters and offer assistance in making this an enjoyable experience ".
Joe Famiglietti
---
Trevor,
Just wanted to drop you a note to say thanks for a great hunting opportunity. Myself, my Dad, Dave, and Jeff had a great time. Lots of deer were seen and all but Dave had shot opportunities. We have been to a lot of hunting lodges and the quality of this hunt is at the top. With that said, I want you to know we will for sure be back next year and many years to come. Again it was great to meet you and your father, I really know the importance of the father son relationships as my dad is my favorite hunting and fishing buddy and my best friend. Thanks again and god bless.
Bill Perry
St.Cloud, FL
---

Trevor & Ben
I harvested my first deer ever at Southern Arrowhead Outfitters and I am forever grateful. I would like to say that i had a great time and can't wait to go back I have already booked for next year. The hospitality and lodging was great and I also made many new friends. I would like to mention that I'm from up North where the deer are big but very few. At Southern Arrowhead Outfitters there are a lot of deer and there are some big ones as well. I had the best time ever thanks again I'll be a regular see you soon. Chris Premo, Largo, FL
---
Trevor and Ben,
Just wanted to say thank you for the great time and for your hospitality. This was my first paid hunt and the best hunting I have done. At first it was hard to pass on some of the quality deer that I saw but waiting absolutely paid off. The group that came in November 09 has already made plans to come back, and are preparing for future hunts. Again, thank you for a great hunt! Nick Ghigliotty, Ocala, FL
---
I

have hunted North West Florida all my life and I can say that Southern Arrowhead Outfitters has some of the best deer hunting in the South East!! With the expert advise that Trevor and Ben provide it is easy to get set up and harvest multiple animals on every trip. I have hunted with them five times so far and have harvested five bucks and seven does in five trips. You can't ask for a better place to bow hunt and have a great time doing it.
Steve Page,
Page's Deer Processing
---
T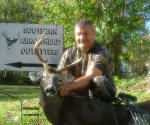 revor, I had such a great time as this was my first paid hunting trip. Staying at the camp and with the expert help from you and Ben, I was able to concentrate on the hunt. I passed on several deer during the hunt and I'm glad I passed on some of the smaller bucks. On the fourth day, I was able to put a NAP Nitron tipped Carbon Express 300 arrow through a 153 lb 8 pointer that had the misfortune of walking in front of me at 20 yards. He was a very large deer but not the biggest I saw there. That very same day my hunting partner Chris who was new at bow hunting, saw 9 different deer from his stand and had a couple of shot opportunities but passed on them. The staff of Southern Arrowhead Outfitters and fellow bow hunters made the overall experience of hunting at Southern Arrowhead Outfitters very enjoyable. Thanks, Sincerely, Kevin Kelly
---
Trevor Fitzgerald, I want to thank you for inviting Eric Stringer, Eric Jr. and I down to your land in FL to hunt hogs. We all had great time. We saw allot of hogs and had plenty of shot opportunities. Thanks to you and your well placed stands were able to get several kills on video. I would highly recommend your place to anyone interested in hunting wild hogs. Thanks again and see ya soon. Sincerely, Tim Mangum, Muzzy Products, BAD TO THE BONE!
---
Dear Trevor,
I just wanted to drop you and your dad a note and let you both know the great time I had hunting Hogs at Southern Arrow Head Outfitters this past weekend.
As you know I just left a hunting lease where I spent the last 15 years hunting and I was in search for a new experience and property to hunt. To say I found that experience at your property would be a understatement to say the least. What I found was great hospitality from both you and your father and not only did I see game every time I went into the woods (which in itself impressed me), but shooting a 200+lb Boar Hog this weekend made my year.
Again Trevor, THANKS. Be sure that I will be recommending your hunting operation to whomever I know and meet in the future. Best Regards, Jon Gordon, Miami, Fl.
---
I have hog hunted in Florida for the last ten years and eight of those years have been with Southern Arrowhead Outfitters. Trevor Fitzgerald is the premier outfitter in Florida to hut hogs with. Billy Langer
Billy Langer Bowhunting Productions
---
Owning a TV show and having hunted for years I have seen many outfitters come and go. I believe that Trevor Fitzgerald is one of the best choices out there for a quality deer hunt or hog hunt in the South East.
Ted Jaycox & Ray Boone, The World of Hunting TV show & producers of Muzzy Bad To the Bone Video Series
---